2023-2024 Registration Announcement: Pre-Kindergarten and Kindergarten Registration will begin on March 28, 2023. To receive a registration packet, please contact Michelle McCracken, Registrar at 716-933-6760 or
mmccracken@portvillecsd.org
. Pre-K children must be 4 on or before December 1, 2023. Kindergarten children must be 5 on or before December 1, 2023. Deadline to have all paperwork returned is April 28, 2023.

Awesome PCS snow sculpture...Thank you Eric Jones!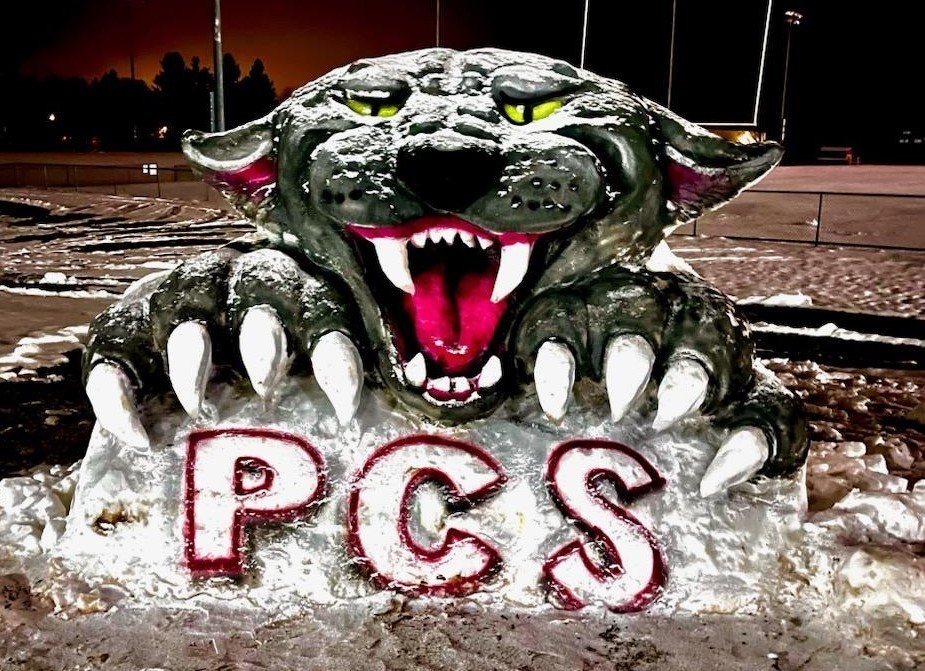 All after school activities are canceled today, Friday March 10th.

Congratulations to Maddison Collins! She placed 2nd in Collision Repair in the BOCES Skills USA Regional Competition at Alfred State!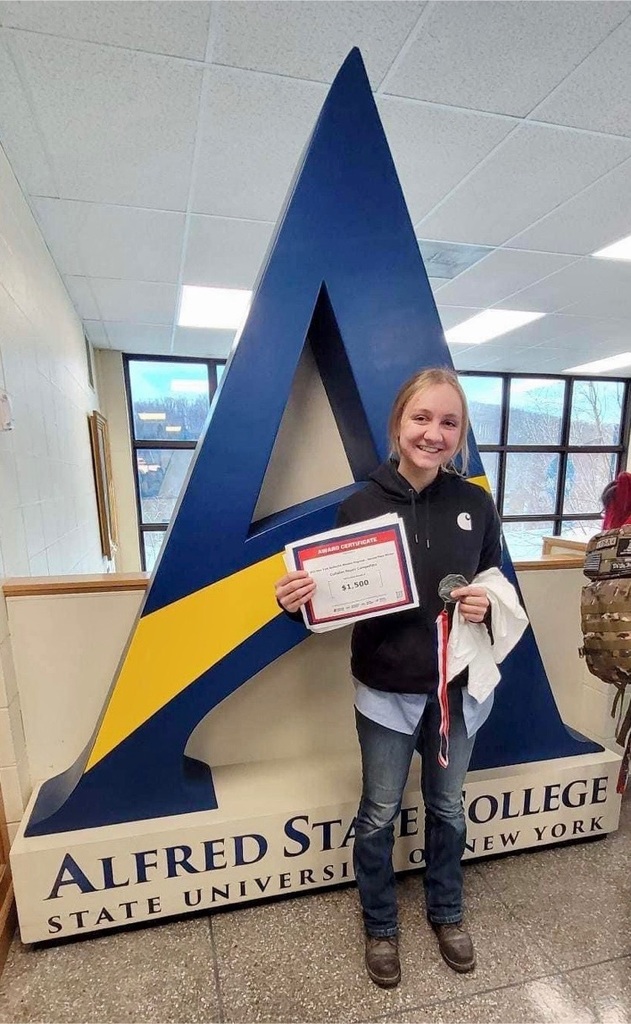 Congratulations to junior # 34 Lillian Bentley on becoming the 6th Lady Panther and 9th overall basketball player to score 1000 points! She accomplished this last night at the girls playoff game vs Holland. Great job Lilly! PCS is very proud of you and your hard work! 😊🏀💪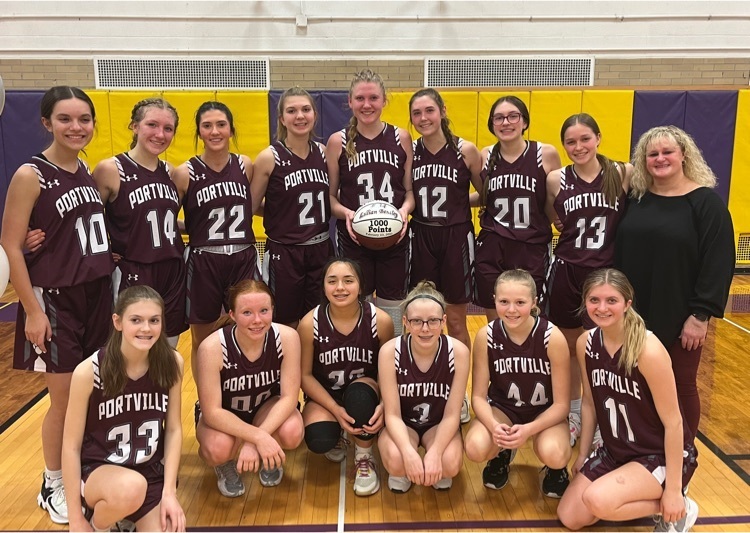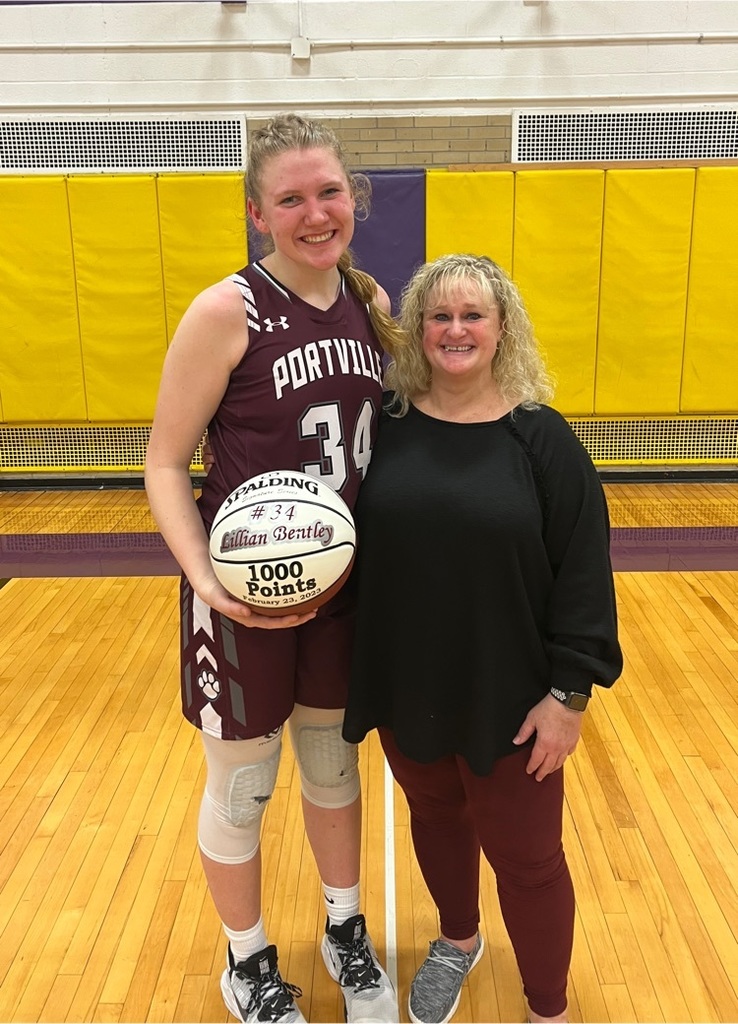 Congratulations to the athletes that competed in the section 6 state qualifier at Houghton University. Our very own Jenna Wyant placed second in the 300 meter dash and was a part of the winning 4 x 400 relay team. Jenna Wyant, Julia Wyant, Jessica Daley, and Aryanna Hatch will be competing in the New York State (NYSPHSAA) Indoor Track and Field Championships in Staten Island at the Ocean Breeze Athletic Complex on March 4th. Congratulations and good luck girls!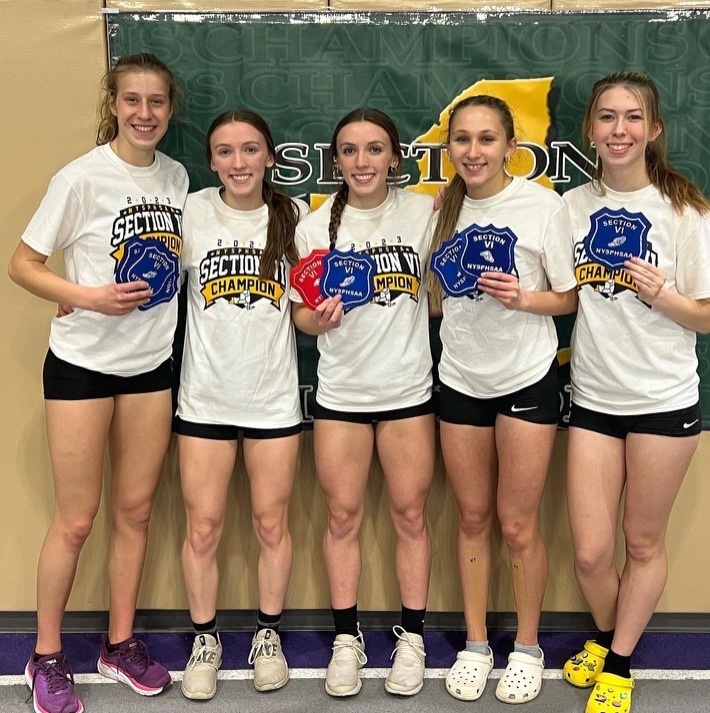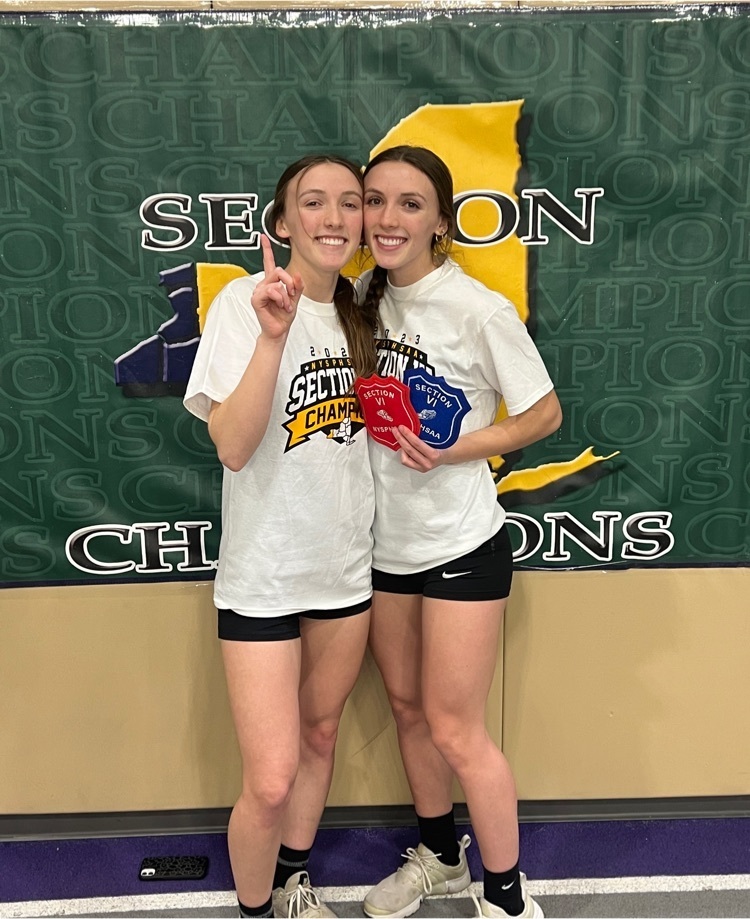 Anticipated Opening: PreK-6 Elementary Principal District Federal Title Grants Coordinator Preference will be given to individuals with the following knowledge/experience: • Fundamental understanding of teaching reading and writing/Masters in Literacy. • Systemic understanding of the complexity of reading programs including Academic Intervention. • Expertise with Behavioral/Social Emotional/Learner characteristics of children ages 3 years old - 12 years old. • Ability and willingness to be a team player districtwide, including handling matters with students/faculty/staff/community members outside the elementary school. Anticipated start date June 1, 2023 Application are due March 3, 2023 Please send resume and cover letter to: Superintendent Simon Portville Central School District 500 Elm Street PO BOX 790 Portville NY 14770
Congratulations to our Students of the Quarter for the 2nd marking period! Vic Vena, Marek Jobe, Kaylin Elliott, Ella Warters, Hayden Sherlock, Chris Osgood, Aidan DeFazio, Myra Sprout, Kinsey Prockton, Joel Stives, Billy Everitt, and Meghan Lyle!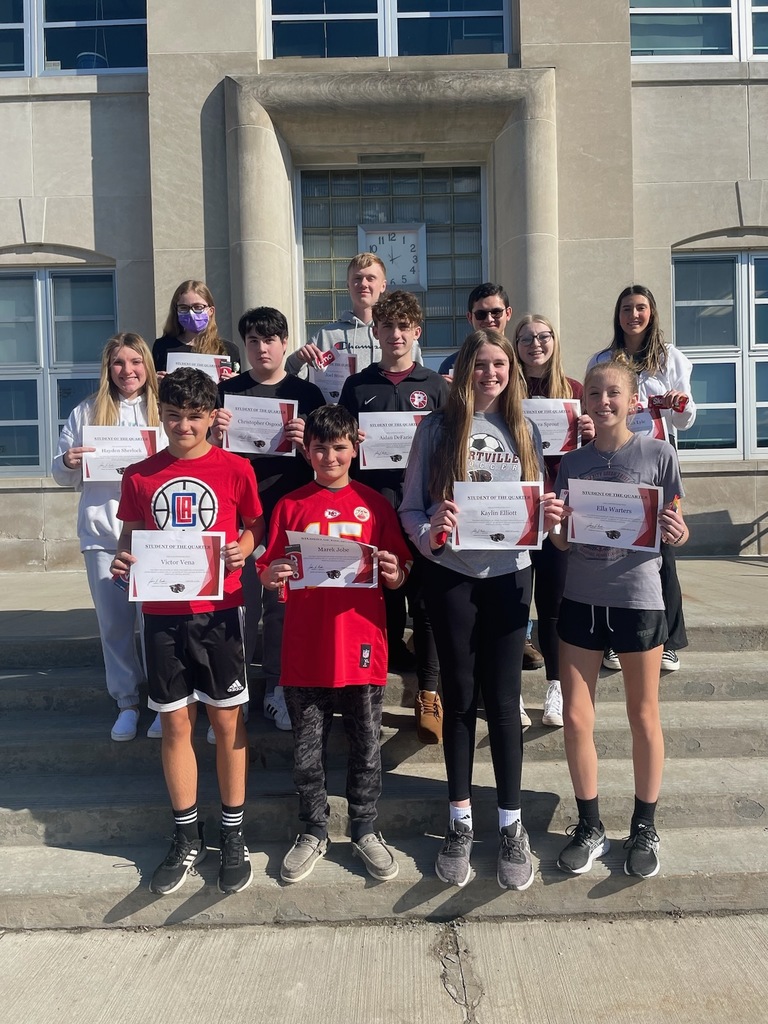 Reminder For 8th Grade Parents: There is an informational meeting for the 8th grade Washington DC trip on Wednesday, February 8th in the auditorium. The meeting will take place at 6:00 PM. We would like to have at least one parent present.

The Portville National Honor Society is hosting a father/daughter dance on Saturday, February 11 from 6-8 PM. The dance will take place in the High School Gym. The cost is $10. There will be no presale tickets, pay at the door.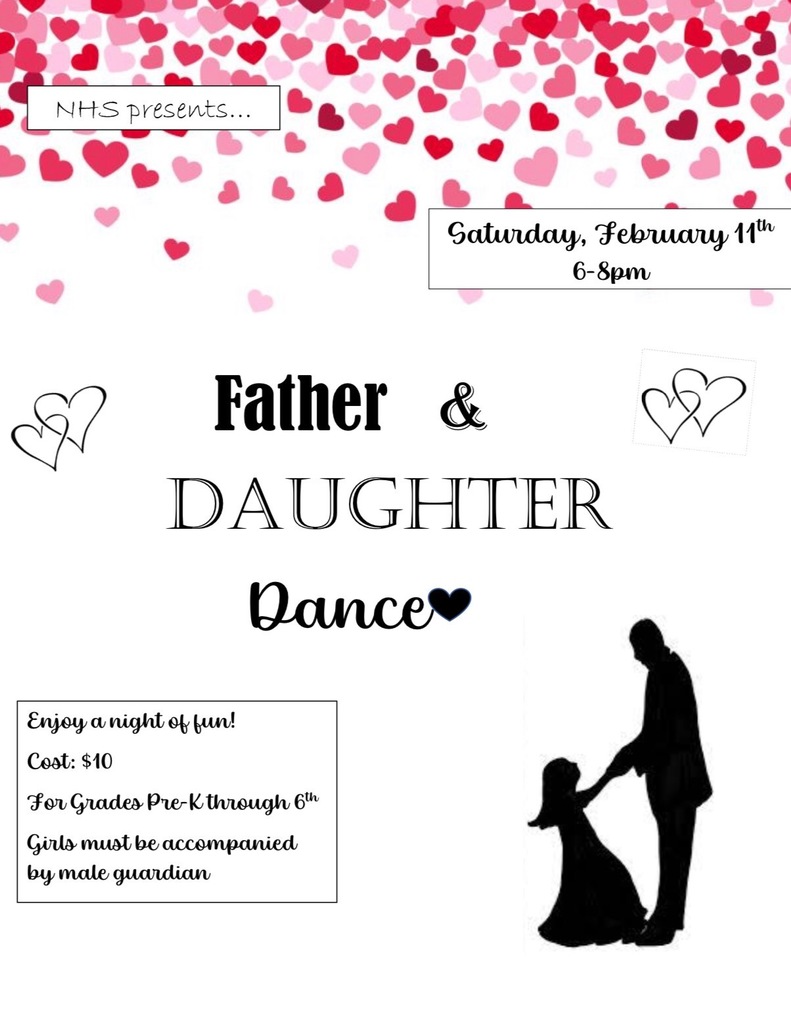 Due to PK - 12th grade early dismissal today, there will be NO OPEN SWIM tonight.
Portville Central School District is accepting bids for a 2010 Chevrolet Impala. Bids will be accepted until Tuesday February 14th, 2023 at 2:00PM at which time bids will be opened. To view the car and to receive specifics on the car contact Transportation Director David Youngs 716-933-6706. Bid sheet available at the Bus Garage or the Business Office. Bids should be sent Attn: Pamela Sue Anderson, School Business Executive Portville Central School District 500 Elm Street PO Box 790 Portville, NY 14770. Bids need to be sealed and marked "2010 Car Bid."
Due to the prediction of mixed precipitation at our normal dismissal time, Portville Central School will be dismissing 1 hour early today. Buses will be leaving the circle at 1:32 today. Please plan accordingly to make sure someone is home to get our youngest students off the bus. If you are making a change to your pick-up plan, please update Pick Up Patrol by 12:30 or call the Elementary Office. There will be no after school activities. Thank you for your cooperation.

OPEN SWIM HAS BEEN CANCELED FOR TONIGHT. 1-20-2023

The Circus is coming to town!!! Come out and support the Class of 2023 and enjoy the circus!! Saturday January 28th at 6:30 in the High School Gym. Get your pre-sale tickets now, don't wait! The price increases the night of the show. Stop by the elementary or high school office and get your tickets for only $15!!! Children 12 and under are FREE with a paid adult!!
The school, village police and our SRO are teaming up to make a concerted effort to get everyone to SLOW DOWN when on campus. Remember the speed limit on campus is 15 mph (5mph in parking lots). Thanks for your support in keeping our kids safe!


Holiday Spirit Week is for students in grades 7-12.

Holiday Spirit Week starts on Monday. Check out the following: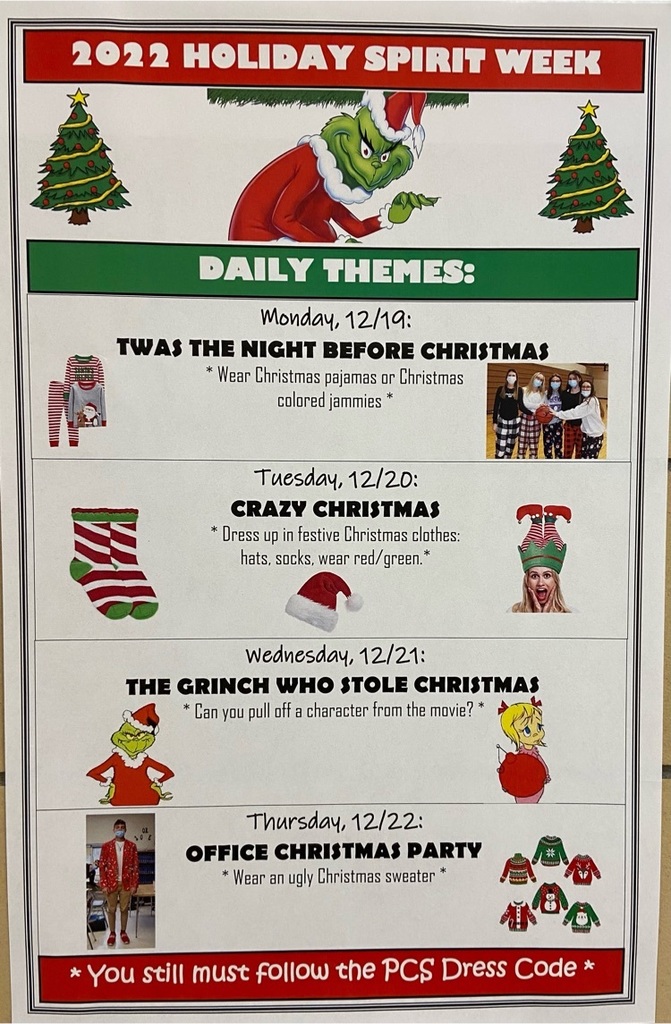 Friday, December 16th will be a C Day. The lunch menu for Friday: Domino's Pizza