Lockdown Practice - The High School Building is now practicing Lockdown procedures. This drill will last approximately 40 minutes. Thanks for helping us keep our children safe.
Juniors and Seniors are invited to visit with representatives from the following: WNY College Consortium 9/22 @ 11:00 SUNY Canton on 9/28 St. John Fisher on 9/28 Keuka College on 9/29 D'Youville University on 9/29

PATHS Buffalo Bills vs. Steelers raffle ticket was drawn today. Please see the video below for the winner! Click this link for video of winning ticket:
https://5il.co/1i5gq

PCS Elementary Outside The School Day (OTSD) activities are scheduled to start on Monday, September 19th for anyone that registered their child(ren). Parents are asked to check your email as confirmation notes were sent out to each family registered to the email address you supplied.


Come out to support the PCS Soapbox Derby team! Good luck Portville drivers: Ava Andrews, Alex Edick, August Smith-Metler, and Lucas Lyons. GO PANTHERS!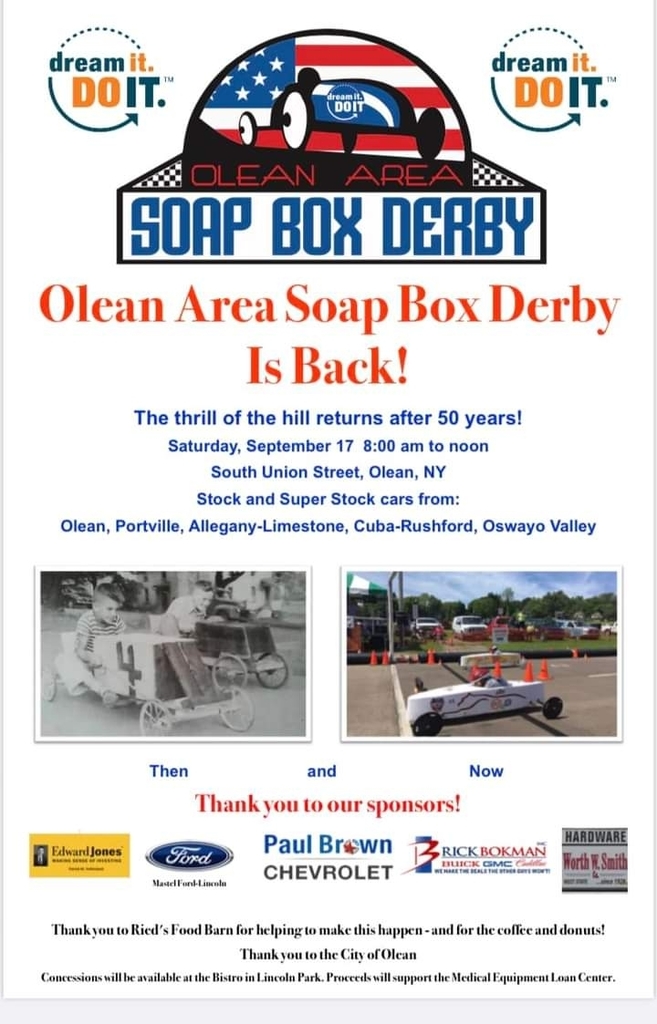 PATHS Raffle for Bills tickets! Click the link below for information about the raffle. Tickets are available in the elementary library during our family picnic on August 31st. See link for more information!
https://5il.co/1hbh2

Mark your calendars for November 5th and 6th for the annual PCS Arts, Crafts and Antiques Show!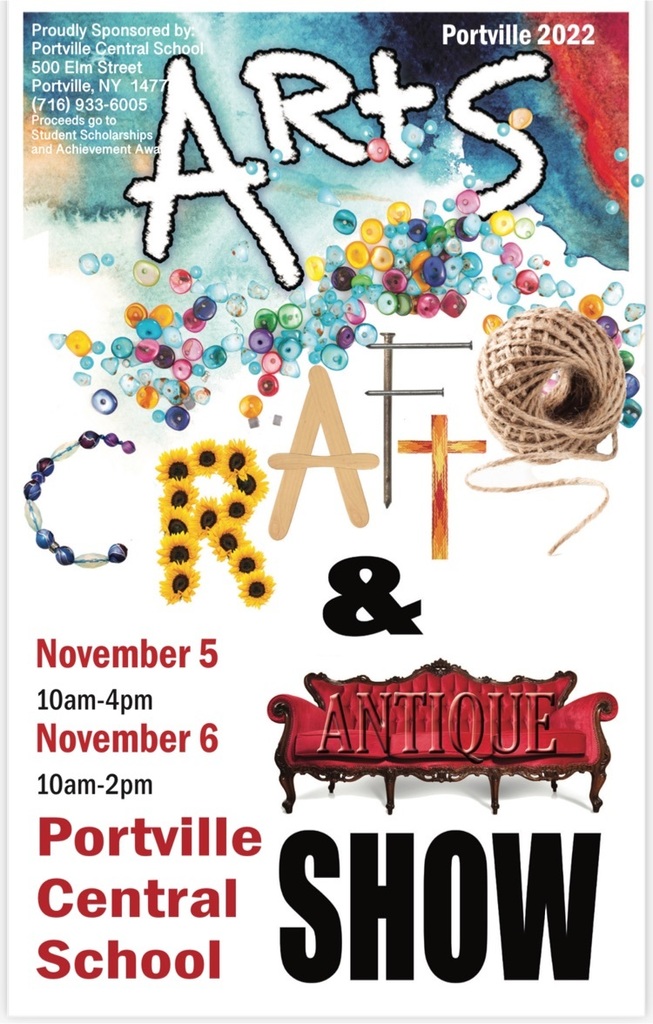 Important 2022/23 Dismissal Information for Elementary Families: Please click the link below for information regarding the setup of your child's dismissal plan for the new school year. You will need to enter this information into PickUp Patrol (PUP) by August 30th.
https://5il.co/1g6r0

The Portville Central School District is now accepting applicants for full-time and part-time Teacher Aides beginning in the 2022-23 school year. Please click the link below for detailed information.
https://5il.co/1fsnj

SWD Teacher: The Portville Central School District is now accepting credentials for a fulltime Students with Disabilities Teacher (Elementary and/or Secondary certification) beginning with the 2022/23 school year. Please click the link below for the detailed information:
https://5il.co/1fqov

2022/23 PCS Elementary Mid- Summer Updates: Class Assignments/School Day: Student classroom/homeroom assignment letters for Kindergarten through sixth grade were mailed home on August 3rd. Families should receive them in the coming days. Prekindergarten letters will be sent shortly after screenings, which are scheduled for mid-August. Meet the Teacher Family Picnic: This event scheduled for Wednesday, August 31st. Stop in any time between 5:00 pm and 7:00 pm- enjoy a picnic dinner, visit your classroom and meet your new teacher, and, if you wish, drop off school supplies! The teachers will all be present and available to answer questions; however, we ask that you limit your stay, as we want to make sure the teachers have enough time to greet all of the children. Supply Lists: Supply list documents can be found on the District's web page at portvillecsd.org, under the Documents tab. They are created by grade level for the coming year, which means all teachers at a grade level require the same materials. PCS Summer Recreation Program: The final day for Summer Rec is Thursday, August 11th.

The 2022-2023 school calendar has been printed and copies will be mailed soon. The calendar is also available to view on our website!
https://5il.co/1fc3m

Attention Summer Rec Participants!! Please wear sneakers to summer rec on Wednesday, August 3rd. We will be going to the ropes course!!


ATTENTION SUMMER RECREATION PARTICIPANTS!!! Due to the impending heat, we are switching water day to tomorrow, Wednesday, July 20th. Please have your child dress appropriately. Sun screen is always a good idea too. Thank you for sharing your kiddos with us. We sure are having a GREAT time!!!

The Portville Central School District is now accepting credentials for the following positions beginning in the 2022/23 school year. Anticipated Vacancy: Teaching Assistant Elementary Teachers (2) A letter of intent, resume, and proof of TA or Teacher Certification are required to be submitted. Interested candidates must apply by July 25, 2022 to: PORTVILLE CENTRAL SCHOOL DISTRICT MR. THOMAS SIMON SUPERINTENDENT OF SCHOOLS 500 ELM STREET PORTVILLE, NY 14770 AA-EEO

Ecology Camp 2022 Video: We are sharing memories from Ecology Camp 2002. Please click the link below to view:
https://5il.co/1e3j8

2022 PCS Summer Literacy/Recreation Bussing Update: Due to the large enrollment of students in our Summer Recreation program, we have added a 3rd bus run each morning and afternoon. This will start on Monday, July 18th. You will notice that the first pick-up of each route is 8:00 am and students should arrive at school at approximately 8:55 am. Please click the link below for bus route details:
https://5il.co/1e3gl