EDIT MAIN
Tim Panus, School Resource Officer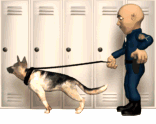 What is a School Resource Officer (SRO)?
An SRO will assume rotating roles as teacher, counselor and law enforcement officer. The officer is not a school disciplinarian, but when a violation of a school rule is also a violation of the law, the school administration and the trooper will work together. The SRO uses all resources available to help students, the school and the community to find a solution to their problems. When acting as a counselor, the SRO is available to talk to students, parents, teachers, and the administration about problems that may involve the criminal justice system.
School Resource Officers bring additional resources into the school.
Because of their experience, training and their assignment, the SROs have time to talk with students when they may need to talk to someone, and will have an opportunity to become a positive influence in their lives. The troopers are intended to help young people and their families with situations that could become dangerous if not diverted by referral to the resources available in the community. In the classroom, the SROs bring their experience, and a sense of real world to their students. SROs' presentations are designed to be integrated into the adopted curricula being taught and supplement the subject matter in those academic areas. As the law enforcement influence on the campus, the SRO program allows the community to be more involved in their school.
The school's job continues to be the education of their students.
While the SRO, as the law enforcement presence, will assist school authorities in policing activities and interventions. The SRO has all the resources of the law enforcement community to assist in the solving of problems that may impact the school. These Trooper SROs, can and do, interact with the court system, probation, social services and county mental health. When the schools and the community work together to create a safe and orderly educational environment, young people feel safer and are more likely to learn. No one can teach or learn if they are afraid when they come to school. The SRO helps to make a difference between merely "being" at school and "learning" at school.