EDIT MAIN
Welcome to Miss Bricker's 2nd grade website!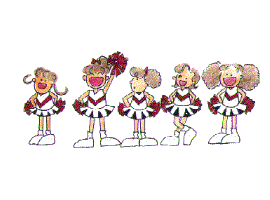 "No man stands as tall as he does when he bends to help a child."
-Rick Lavoie
Name: Abbie Bricker
Email Address: Click Here!
Phone number: (716) 933-6000
---
Homework
Homework packets will go home on Mondays. This packet usually contains a page to read, a spelling page, phonics page, and math page. These packets are due back by Thursday (if you finish before Thursday, bring it in early!)
Parents: feel free to help you child complete this packet!
---
Morning Program!
Morning Program is held every Monday, Wednesday, and Friday in the John Dubots Room. It will begin promptly at 8:00. During morning program we sing songs, say the pledge, recognize student and teacher birthdays, and announce visitors. Every month we discuss a different pillar, such as respect, responsibility, and trustworthiness.
On Friday, Mrs. Griffith announces Star of the Week! A student from each class is recognized for their awesome behavior! One student is then chosen to be the Citizen of the Week. They will get to hold the flag during Morning Program the following week!
Parents are welcome and encouraged to attend. I am the new emcee for Morning Program--hope to see you there!
---
Math
---
My Delicious
As part of an online grant, I created a Delicious webpage. This is an online webpage that contains links and bookmarks to all of my favorite websites! They are organized by subject. These websites include games, videos, and projects that match our curriculum! You don't even need a password or username. Have fun!
---
Our Class Pet
In 2nd grade, we are so lucky to have a class pet! Peanut Butter the guinea pig is an awesome friend to everyone in the classroom!
Students are able to "babysit" Peanut Butter over long weekends, holidays, and school breaks. Students earn tickets through good behavior, and these tickets will go in the drawing to take home Pumpkin! Parents MUST sign a permission slip before students are entered in the drawing.
Throughout the year, we do a lot of projects with Peanut Butter! We write stories and complete word problems about Peanut Butter.
---
Reading Street
PCS is now using the Scott-Foresman Reading Street reading series. It has an online component that your child can use at home. Just sign in with your child's username and password!
---
Science
In 2nd grade, we use the science kits from BOCES! This year, your child will study:
Matter
Measurement
Weather
Plants and Animals
Click here to check out the kits!
---
Spelling
Spelling goes along with our stories in reading. Each week, we learn a different phonics rule and 12 words that follow that rule! Spelling lists will go home on Monday. There will be a pretest on Wednesday. If a student earns a 100% on their pretest, they do NOT have to take the test on Friday! The rest of the class will take the regular spelling test on Friday!
Click here to find fun ways to practice your spelling words!
Here are your words for the year!